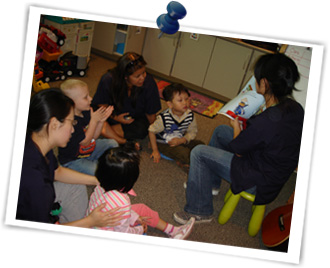 We are currently taking applications for our centre-based GABA Programs in Burnaby and Richmond:
Group Applied Behaviour Analysis Burnaby
In-Clinic Richmond
What is Group Applied Behaviour Analysis (GABA)?
GABA (Group Applied Behaviour Analysis) is a partnership between ABA Learning Centre (ABALC) and Group ABA Children's Society, a non-profit society. The intensive intervention programs are designed and the GABA staff is provided support and training in ABA by professionals from ABALC. GABA enrolls children between 3 years and 6 years of age, who have been diagnosed with an autism spectrum disorder (autism). All the children demonstrate impairments in communication, language, social interaction and play. Some demonstrate stereotypic behaviours and interests or problematic behaviours. Some children are nonverbal when they enroll at GABA while others have limited use of words. Interventionists, supported by Board Certified Behavior Analysts, implement the program of intensive ABA intervention for 12.5 to 25 hours per week. Opportunities for play and integration with typical peers are planned and implemented when appropriate.
What is Applied Behaviour Analysis (ABA)?
Applied Behaviour Analysis (ABA) involves:
Breaking skills into small units
Using procedures such as reinforcement, extinction, shaping, prompting, fading, chaining, discrimination, generalization, etc. to teach skills
Teaching skills such as receptive and expressive language, motor imitation, social skills, self-help skills, readiness skills and others vTeaching intensively using discrete trial techniques and natural environment strategies
Functional assessment of behaviour and positive behaviour support strategies
Data is recorded daily on various aspects of the childrens¡¦ learning and each child has annual assessment of their skills. Decision making is led by data that demonstrates a particular strategy is being effective. Parents participate in monthly planning meetings to discuss their child's progress and the next appropriate goals for the month to respond to both the child's unique skill level and family values.
Why Applied Behaviour Analysis (ABA)?
Children with autism do not learn every day skills incidentally. The areas of deficits in autism are language and communication, socialization and play. Children with autism do not learn well from the typical experiences and guidance provided by parents. Even the techniques provided in pre-school settings for typical children are insufficient to reach and teach some children with autism. The research is clear, autism can be effectively managed, and positive outcomes can be attained, using a combination of behavioral intervention strategies based on the empirically proven principles of applied behavioral analysis.
The GABA (Group Applied Behavior Analysis) Program uses a range of ABA techniques to teach children with ASD, and follows an approach referred to as Verbal Behavior (based on B.F.Skinner's Analysis of Verbal Behavior).
Family Support & Networking
GABA families are provided education and support and a time to network through monthly evening workshops. The combination of intensive teaching, opportunities to participate in facilitated play with age peers who also have ASD and family support for parents to learn knowledge and skills results in significant improvements in the skills the children demonstrate. Along with acquiring the skill to speak and communicate, the children demonstrate an interest in other children, seek the attention of their peers and adults and develop play skills to interact with their peers.
How To Apply
If your child has a diagnosis of an autism spectrum disorder, is between 2 ½ and 6 years of age and you are seeking intensive intervention for 12.5 to 25 hours a week in a centre based program, you can obtain an application from ABA Learning Centre, Intake Application or a local GABA site listed below.
GABA Burnaby
#103-4181 Hastings St.
Burnaby, B.C. V5C 2J3
Tel: 604-261-8782
In-Clinic Program Richmond
1110-6900 Graybar Road
Richmond, B.C. V6W 0A5
Tel: 604-232-4122
 jmcgregor@abacentre.ca
 joseph@abacentre.ca