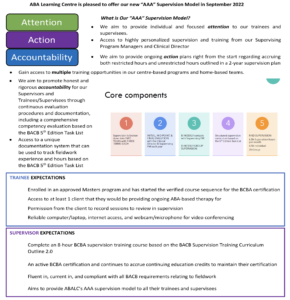 Please refer to the BACB website for a complete description of the requirements for becoming a BCBA, BCBA-D, or BCaBA. It is required that the BCaBA practice under the supervision of a BCBA or BCBA-D.
BCBA AND BCaBA CANDIDATE REMOTE SUPERVISION
ABA Learning Centre is now offering remote supervision to individuals working towards BCBA or BCaBA certification. Restricted and unrestricted hours can be offered, along with group supervision. Please note that observation of direct work with a client is required for a supervisory contract, and consent will need to be obtained from all parties involved (including if you are employed at an agency and looking for supplemental supervision). Supervision is offered at a flat rate of $400, for 6.5 hours of which 2 are group supervision. An hourly rate for 1:1 supervision is available for $90 per hour, and group supervision is offered at $30 per hour.
Candidates must:
Already be employed within an agency or working on teams.
Be in an approved program, or completed the required coursework.
Have access to a computer and recording device.
Please note that ABA LC is not responsible for finding the trainee job opportunities to gain supervision.
INTAKE FORM QUESTIONS
School program:
Start/Completion dates:
Current employment.
What type of supervision are you looking for? How many hours?
Please email the responses to these questions, plus a resume, to shaheen@abacentre.ca